The Field's writers recommend some reads to see you through the dark days of winter

Names of the Fish
by Chris McCully
Have you ever stopped to reflect on why a trout is thus called when it could have been saddled with something else entirely? A shoat? A ruff? Even if you haven't, Chris McCully makes a powerful case here for his belief that "cultural histories hide within lexicons", conveyed through the prism of all that is piscatorial in British and Irish freshwaters.
McCully manages to be both scholarly and engaging, ensuring this will appeal not just to anglers but to all who have an interest in language. This dictionary includes local names as well as nicknames and obsolete designations: dollaghan is an Irish name for a brown trout; whiskers is a nickname for the barbel; shafflin is a name no longer used for an eel. Each entry is accompanied by a detailed etymology that even the unromantic among us would surely struggle to resist.
A particular highlight is the revelation that the sea trout must surely be "the most lexically endowed fish on the planet", having a frankly monikerly avaricious 70. (Read The Field's guide to the best salmon fishing in the world.)
Reviewed by Ettie Neil-Gallacher
The British Cookbook
by Ben Mervis
I can't be alone in periodically getting stuck in a culinary rut. At this time of year, when festive standards organise themselves into a gastronomic loop, a new cookery book is welcome and can change how we think about food – both as individuals and as a society. Nigella (no surname needed) made me realise I could bake, and Ottolenghi has single-handedly transformed a nation's eating habits.
Ben Mervis isn't resetting our culinary mindset, perhaps, but in this celebration of British ingredients and dishes, he could certainly reset our culinary focus. For as Jeremy Lee, chef proprietor at Quo Vadis, writes in his foreword, Mervis reminds us of "the rich traditions of regional and seasonal cooking in the British Isles, which… is as relevant today as it ever was".
All four corners of the UK are represented, with every traditional dish you can think of and many more besides. The odd recipe may well remain in the novelty zone (cod heads stuffed with liver and oatmeal, anyone?) but most will remind and delight in equal measure.
Reviewed by Ettie Neil-Gallacher
On Travel and the Journey Through Life
Edited by Barnaby Rogerson Eland
It was Ted Hughes who wrote "the only thing people regret is that they did not live boldly enough". He might have added to this the sorrow felt by those who have not travelled enough. I sometimes wonder if I will ever go by train from Craven Arms to Barmouth or take a canal boat with a pye-dog through the Midlands. Those with wanderlust should beware Barnaby Rogerson's pocket book of collected travel aphorisms, primitively illustrated by his friend Kate Boxer, with all the invested magic of a Cecil Collins 'Vision'. You will reach for your passport. "Shake off the fetters of habit," urges Sir Richard Burton, "the leaden weight of routine." Rogerson has travelled widely, with a scholar's eye and unwearied heart. "Pay attention to the journey and not the destination," urges his wife, Rose Baring, in her introduction. They have certainly done that, as the remarkable publishers of Eland for 40 years, through continents and a happy life well shared.
Reviewed by Rory Knight Bruce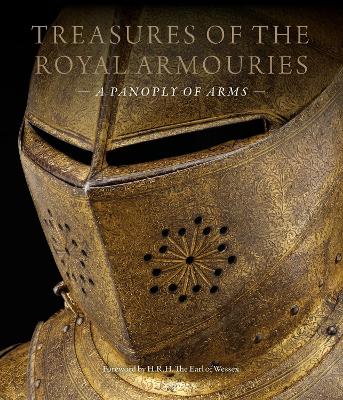 Treasures of the Royal Armouries
Edited by Edward Impey
In case familial tensions flare over the festive season, one might want to bite one's tongue and let one's imagination seek inspiration from this magnificent guide to some of the country's finest arms and armour. There is surely some satisfaction to be drawn from ruminating on the tools our forefathers drew upon in times of conflict, and imagining the uses to which they could still be put. Britain's national museum of arms and armour was assembled over centuries at the Tower of London but the collection is now spread across several sites. Highlights include Tudor armours sourced from the Greenwich Armoury of Henry VIII but this sumptuous book also features a Roman sword and scabbard from Germany; an early 17th-century Japanese dagger; and pistols belonging to the captain of HMS Beagle, immortalised as the vessel for Darwin's studies. Each of the 115 entries is rich in detail, representing different campaigns and cultures across millennia.
Reviewed by Ettie Neil-Gallacher
All products are independently selected by our editors. If you buy something, we may earn an affiliate commission. Learn more.